Profile Permissions?
Garry

Topic Author

Administrator
12 years 4 months ago

-

12 years 4 months ago

#121 by

Garry
What are Profile Permissions?
These settings give you the ability to turn on or off, what you want members and non members to view, from Your Active Profile.

You can choose from the pull down list.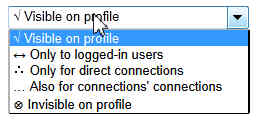 Checkout the Admin User Profile as most bits have been turned off.
I.E.
Invisible on Profile
P.S. The User Profile default setting is
Visible on Profile
.
Last edit: 12 years 4 months ago by
Garry
.
Please Log in or Create an account to join the conversation.
Time to create page: 0.108 seconds